Frequently asked questions
Will I also learn how to detail cars?
---
YES. This is what this is all about! You will have access to the detailing course segment folders where you will learn all the services in auto detailing and how to even use certain equipments. These include: -Full Detail -Clay Bar - Waxing and Sealant - Dual Action Buffer - Polish - Paint correction (Compound + Polish) - Shampoo - Leather treatment - Headlight Restoration - Waterless wash - Engine Detail - MUCH MORE.
---
Is there a franchise opportunity where you guys can do it all with me and for me?
---
Yes! After signing up to this program you will receive an exclusive detal from Wings Mobile Detailing franchise. Franchise.wingsmobiledetailing.com
---
How long until I reach the point where I am managing from my home office?
---
This is completelly related to the speed in which you obsesivelly take these success actions taught in this course. We helped a few companies achieve a 3 van fleet with plenty of customers and employees in only 23 months. That was near record timing. It's completelly up to you. The potential is there.
---
Tell me about Andre's success with his company Wings Mobile Detailing?
---
Andre now operates Wings Mobile Detailing in multiple locations across the east coast. In less than 3 years, Andre had grown his company with 3 fully operational work vans. Later, he acquired a auto detailing shop to perform Paint correction and ceramic coating services.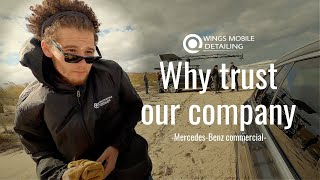 ---
Do I get Certification?
---
YES. You will receive a Auto Detailing Certification upon completion as well as a certification to acquire a Wings Mobile Detailing Franchise anytime in the future. - You may add this certification to your business' website to show clients you are well trained and certified to provided detailing services on their vehicle.
---
---